If you are looking for the cheapest way to build a house, use our tips below to save as much money as possible!
What Is The Cheapest Way To Build A House?
Follow these nine tips to save money during the home-building process:
Use A Strict Budget.
Simple Home Design.
Hire Experienced Home Builders.
Focus On Materials.
Make The Home Energy Efficient.
Build Off The Grid.
Choose Stock Floorplans.
Only Use Standard Sizes.
Handle The Final Touches Yourself.
1. Use A Strict Budget
The most important thing you need to do ahead of the home-building process is to set a tight budget. Determine how much you can afford to spend on a new home long before the project gets underway.
Always meet with a financial advisor and lender prior to purchasing a lot. Once the budget has been set, communicate and reiterate this figure to your builder. Refrain from adding on any more expensive options/amenities.
2. Simple Home Design
Think inside the box rather than outside the box when it comes to designing the home. The cheapest way to design any new build is by staying within a box. Refrain from going with any elaborate structures or designs.
This applies to the roof, as well. The simpler the roof design, the cheaper this part of the new home will be.
3. Hire Experienced Home Builders
Builders can make or break your budget. Your goal will be to find an affordable builder with a long and respected history of new home construction projects.
Find a builder that promises to work with your budget and stick to a timeline. Always compare a few different builders in your area before settling on one.
4. Focus On Materials
Utilizing some unconventional building materials is a great way to save some money during this process. Some tiny homes are built with reclaimed storage containers these days.
There is a lot of room for innovation in the home-building industry. Feel free to ask your contractor about some alternative materials, which could save you lots of money in the long run.
5. Make The Home Energy Efficient
You could save hundreds of dollars each month by choosing to build your home with energy-efficient materials. There are multiple ways to do this, from utilizing solar energy to installing better insulation. If you make the initial financial investment, it will surely pay off in the future.
6. Build Off The Grid
One huge trend across the country has become sustainable living. Off-the-grid housing, also known as self-sufficient homes, relies solely on natural resources.
These resources include solar or wind-powered generators. Some homeowners will even choose to harvest and consume their own foods.
7. Choose Stock Floorplans
For a lot of potential home builders, this can be a difficult task, yet it is essential if saving money is a high priority. Rid yourself of extra expenses by simply browsing premade house plans instead of any custom blueprints. If you have a great eye for design and vision for future uses, most stock plans will work for your future home.
There is also the option of hiring a professional to make adjustments to the stock plan without the expenses associated with a customized layout.
8. Only Use Standard Sizes
Even if you chose a customized design over a stock plan, make sure you choose to have all doors and windows in standard sizing. Oddly-sized or shaped areas will only drive up total costs of the project.
Feel free to shop around at construction supply stores for standard sized windows and doors.
9. Handle The Final Touches Yourself
When hiring a contractor, you can tell them to leave certain final touches out of the bid. Tell them you can take care of easier tasks that come near the completion of the project, including interior painting, landscaping and staining wood trim. Handling these tasks yourself can drastically decrease the overall costs.
How Much Does It Cost To Build A House?
According to HomeAdvisor, the average cost to build a house in Arizona is about $291,538. Building a 2,000 sq ft home in Arizona will cost you anywhere from $152,717 to $434,111. If you are interested in building a slightly larger or small home in Arizona, you can figure out the cost yourself by using the cost per sq ft. The average cost per sq ft to build a home in Arizona is $150 per sq ft.
2,400 sq ft home: $360,000
2,300 sq ft home: $345,000
2,200 sq ft home: $330,000
2,100 sq ft home: $315,000
2,000 sq ft home: $300,000
1,900 sq ft home: $285,000
1,800 sq ft home: $270,000
1,700 sq ft home: $255,000
1,400 sq ft home: $210,000
1,600 sq ft home: $240,000
1,500 sq ft home: $225,000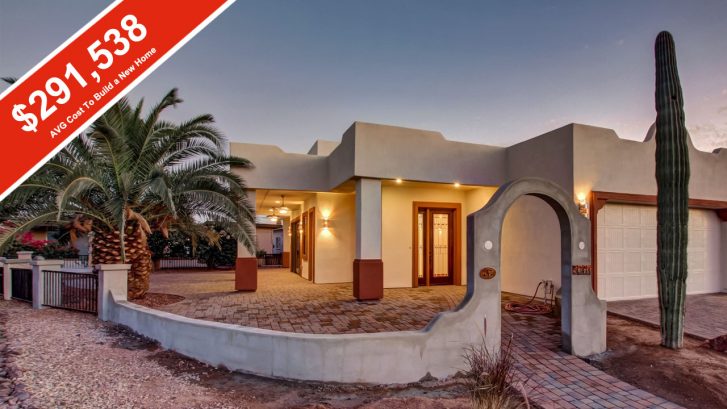 Build a Custom Home In Arizona
Contact Hughes Development today to get an estimate for your home building project. Hughes Development builds custom homes in Mesa, Apache Wells, Mountain Whisper and more areas in Arizona.
More Articles About Home Building